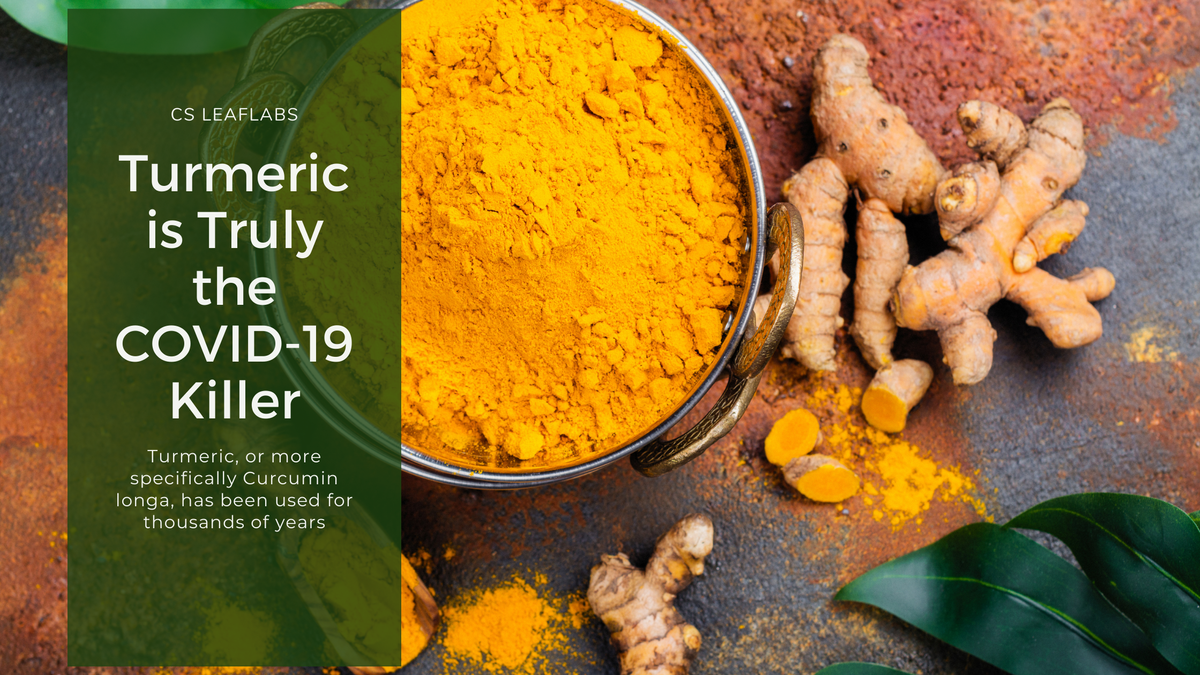 The research on curcumin has been going on for a while now, and although the chemical is being heavily studied, it doesn't seem to get the recognition that it deserves. Curcumin seems to have an effect on just about everything from pain management to depression. It's already a major component in many arthritis medications and supplements, but new research indicates that it also able to help with COVID-19 management.
In this article I will explain what Turmeric is, its history, and how it can be used to benefit your health.The research on curcumin has been going on for a while now, and although the chemical is being heavily studied, it doesn't seem to get the recognition that it deserves.
Turmeric, what is it?
Turmeric, or more specifically Curcumin longa, has been used for thousands of years in India and China to help with a number of ailments including rheumatism, arthritis and poor memory. In recent years it has also been used as a supplement to curb the effects of cancer, heart disease and other health problems.
Turmeric has a broad spectrum of biological actions, including antibacterial, antiviral, antifungal, antioxidant and anti-inflammatory activities
It contains a number of active ingredients called curcuminoids which are thought to have medicinal properties. The most well-known of these is curcumin. However, other curcuminoids include diferuloylmethane, feruloylmethane, demethoxycurcumin, and bisdemethoxycurcumin.
The COVID-19 Study And Turmeric's Potential To Kill It
COVID-19 attacks the host body by developing oxidative stress and hyper inflammation which results in acute lung damage, tissue fibrosis, and pneumonia.
Curcumin contains certain clinically relevant properties such as antiviral, antinociceptive, anti-inflammatory, antipyretic, and antifatigue actions that may be effective in managing the symptoms of COVID19 infected patients.
Curcumin could alleviate symptoms of the infected patient with COVID‐19 and reduce inflammatory cytokines via inhibiting TLR/MAPK/NF‐κB signaling in the virus

Based on recent study has shown that curcumin potentially inhibits ACE2, modulates characteristics of lipid bilayer, as well as viral S protein inhibiting entry of virus into cells

Curcumin exerts antiviral effect by various mechanisms ranging from inhibiting the virus entry into cells, inhibiting encapsulation of the virus and viral protease, inhibiting the virus replication, as well as modulating several signaling pathways

Curcumin is a potent antioxidant. It exerts its antioxidant effects both by neutralizing free radicals and enhancing the production of antioxidant enzymes These reveal potential immune-boosting, antioxidant and anti-SARS-CoV-2 effects of curcumin
Conclusion
Several vaccines and medicines are now being tested for their efficacy, safety, and dose determination for COVID-19, and their validation will take some time. As a result, investigating the repurposing of natural chemicals may provide alternatives to COVID-19.
Grouping some of these phytonutrients in the right combination in the form of a food supplement may help to boost the immune system, prevent virus spread, preclude the disease progression to severe stage, and further suppress the hyper inflammation providing both prophylactic and therapeutic support against COVID-19.
Reference: