What is it effective for?
"Nirmali Seeds" is a native plant of India and is traditionally used in treating high blood glucose level and gonorrhea. This seed reportedly possess antidiarrheal activity, anti-inflammatory activity and antioxidant activity
Benefits highlighted by several research in scientific journal
What is Strychnos Potatorum?
Strychnos potatorum or Nirmali Seed is a native plant of India and plentiful in the deciduous forests of West Bengal, Central India, and in South India up to 1200 meters.In Madras, India the seeds are traditionally used in treating high blood glucose and gonorrhea.
It is rich with tannins that work to reduce oxidative stress and free radical damage to our cells.Its well-known for their antimicrobial activities, and they would improve your immune response.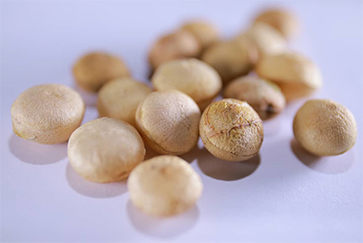 Strychnos potatorum in Details
alkaloids, flavonoids, glycosides, lignins, phenols, saponins, sterols, and tannins
Anti-diabetic
Anti-inflammatory Antiulcerogenic
Hepatoprotective
Antioxidant activity
Anti-arthritic
Anti-nociceptive
Antipyretic
Anti-diarrheal
Diuretics and
Antimicrobial properties
West Bengal, Central India, and in South India
Peer Review Journal Reference
1) Shanti Bhushan Mishra, Amita Verma, Madhavan Vijayakumar, Preclinical valuation of anti-hyperglycemic and antioxidant action of Nirmali (Strychnos potatorum) seeds in streptozotocin-nicotinamide-induced diabetic Wistar rats: A histopathological investigation, Biomarkers and Genomic Medicine, Volume 5, Issue 4, 2013, 157-163
2) Yadav KN, Kadam PV, Patel JA, Patil MJ. Strychnos potatorum: Phytochemical and pharmacological review. Pharmacogn Rev. 2014;8(15):61-66. doi:10.4103/0973-7847.125533
3) Dhasarathan P, Theriappan P. Evaluation of antidiabetic activity of Strychonous potatorum in alloxan induced diabetic rats. J Med Med Sci. 2011;2:670–4.
4) Sanmuga EP, Venkataraman S. Anti-inflammatory effect of Strychnos potatorum. Seeds on acute and subacute inflammation in experimental rat models. Pharma Biol. 2007;45:435–9.
5) Yin W, Wang TS, Yin FZ, Cai BC. Analgesic and antiinflammatory properties of brucine and brucine Noxide extracted from seeds of Strychnos nuxvomica. J Ethnopharmacol.
2003;88:205–14.
6) Sanmugapriyaa E, Venkataraman S. Antiulcerogenic potential of Strychnos potatorum Linn seeds on Aspirin plus pyloric ligation induced ulcers in experimental rats. Phytomedicine.2007;14:3605.
7) Ekambaram SP, Perumal SS, Subramanian V. Evaluation of antiarthritic activity of Strychnos potatorum Linn seeds in Freund's adjuvant induced arthritic rat model. BMC Complement Altern Med. 2010;10:56.
8) Biswas S, Murugesan T, Sinha S, Maiti K, Gayen JR, Pal M, et al.Antidiarrhoeal activity of Strychnos potatorum seed extract in rats.Fitoterapia. 2002;73:43–7.
9) Mallikharjuna PB, Seetharam YN. In vitro antimicrobial screening of alkaloid fractions from Strynos potatorum. EJChem.2009;6:1200–4
Thirteen Natural Ingredients. One Ultimate Formula.
Our product was developed to protect your health. Now discover what we can do for you