What is it effective for?
Terminalia Chebula has properties that help stimulate the heart by lowering cholesterol thus regulating blood pressure. It is reported to have antioxidant and free radical scavenging activities
Based on recent studies,Haritaki (Terminalia chebula) has potential against SARS‐COV‐2 (COVID 19) since these herb extracts contain a plethora of molecules researched to have anti‐viral, anti‐inflammatory, anti‐oxidant properties, and other beneficial health effects.
Benefits highlighted by several research in scientific journal
What is Terminalia chebula
In ayurveda, the Terminalia chebula herb, especially its fruits, are well-known. It is one of the key ingredients used in triphala or "three fruits"—the most frequently prescribed herbal remedy in ayurveda.
Research shows a significant antidiabetic and renoprotective effect from a chloroform extract of myrobalan, which enhanced insulin secretion from the β-cells in the islets of Langerhans, or by an extra pancreatic mechanism, which supports its traditional usage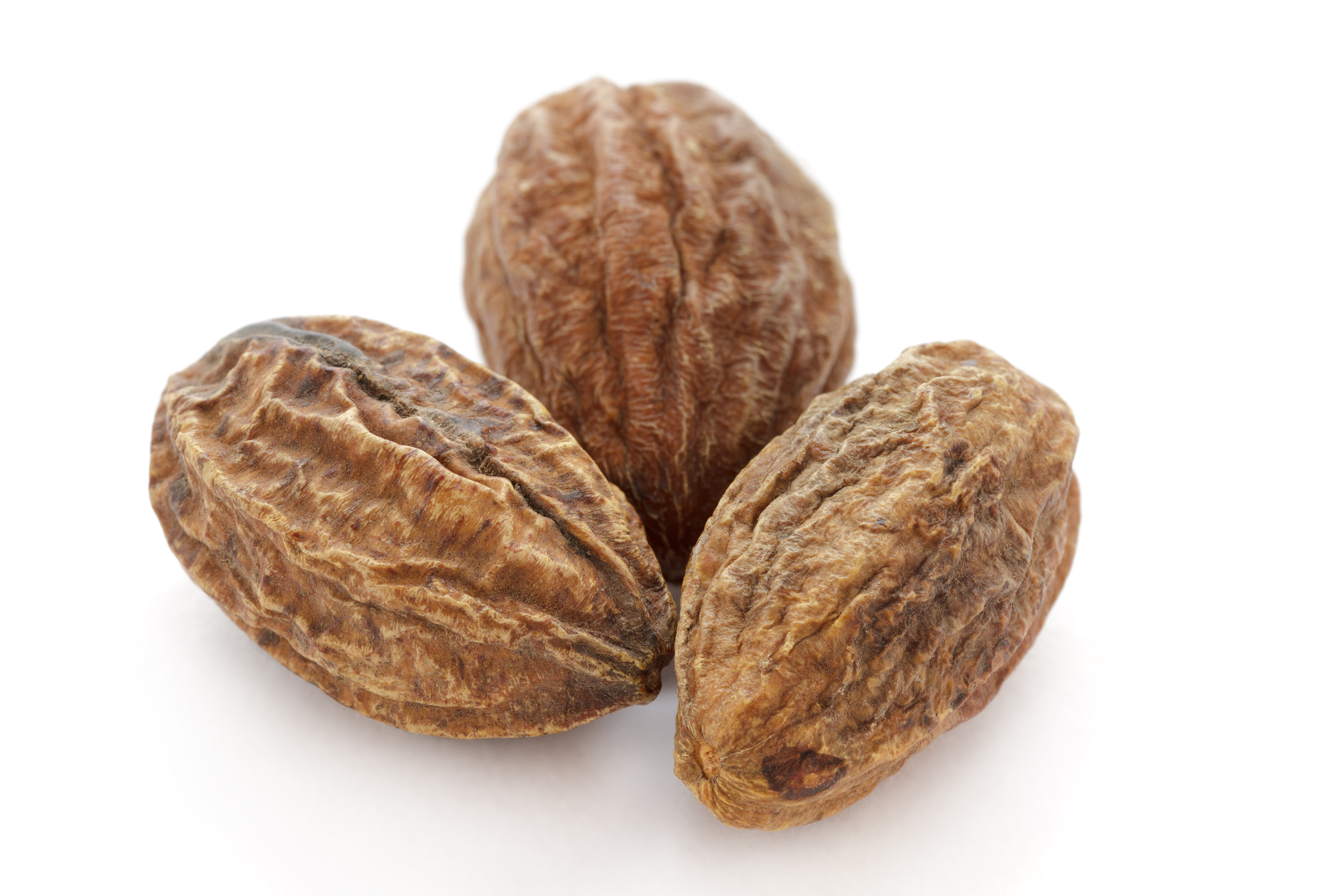 Terminalia Chebula in Detail
Gallic Acid, Ellagic Acid,Phenols (Tannins), Ethyl Gallate, Chebulic Acid, Chebulagic Acid, Corilagin, Mannitol, Ascorbic Acid (Vitamin C),Steroids/Sapogenins, Saponins, Anthraquinone Derivatives, Flavonoids Quercetin, Catechin, And Kaempferol
Antioxidant,
Antidiabetic,
Antimicrobial,
Antiulcerative,
Antiarthritic,
Anti-inflammatory
India, Bangladesh, Myanmar, Nepal, Pakistan, Sri Lanka, Cambodia, Indonesia, Malaysia, Vietnam, and southwestern China
Peer Review Journal Reference
1. Anwesa Bag, Subir Kumar Bhattacharyya, and Rabi Ranjan Chattopadhyay*The development of Terminalia chebula Retz. (Combretaceae) in clinical research Asian Pac J Trop Biomed. 2013 Mar; 3(3): 244–252.
2. Upadhyay S, Tripathi PK, Singh M, Raghavendhar S, Bhardwaj M, Patel AK. Evaluation of medicinal herbs as a potential therapeutic option against SARS-CoV-2 targeting its main protease. Phytother Res. 2020;34(12):3411-3419. doi:10.1002/ptr.6802.
3. Akbar S. (2020) Terminalia chebula Retz. (Combretaceae). In: Handbook of 200 Medicinal Plants. Springer, Cham. https://doi.org/10.1007/978-3-030-16807-0_184
4. Ratan K. Chaudhuri and Zoia Lascu Terminalia Chebula for Preventive and Restorative Anti-aging Benefits, Sytheon Ltd., Boonton June 24, 2015
5. Chia Lin Chang, Che San Lin, "Phytochemical Composition, Antioxidant Activity, and Neuroprotective Effect of Terminalia chebula Retzius Extracts", Evidence-Based Complementary and Alternative Medicine, vol. 2012, Article ID 125247, 7 pages, 2012. https://doi.org/10.1155/2012/125247
6. Assie Jokar, Fatemeh Masoomi, Omid Sadeghpour, MohsenNassiri-Toosi,Shokouhsadat Hamedi,Potential therapeutic applications for Terminalia chebula in Iranian traditional medicine,Journal of Traditional Chinese Medicine,Volume 36, Issue 2,2016,Pages 250-254,ISSN 0254-6272,https://doi.org/10.1016/S0254-6272(16)30035-8.
7. Min Hye Yang a, Zulfiqar Alia, Ikhlas A. Khana,b and Shabana I.Khana,b,*Anti-inflammatory Activity of Constituents Isolated fromTerminalia chebula NPC 2014 Vol. 9 No. 7 965 - 968
Thirteen Natural Ingredients. One Ultimate Formula.
Our product was developed to protect your health. Now discover what we can do for you